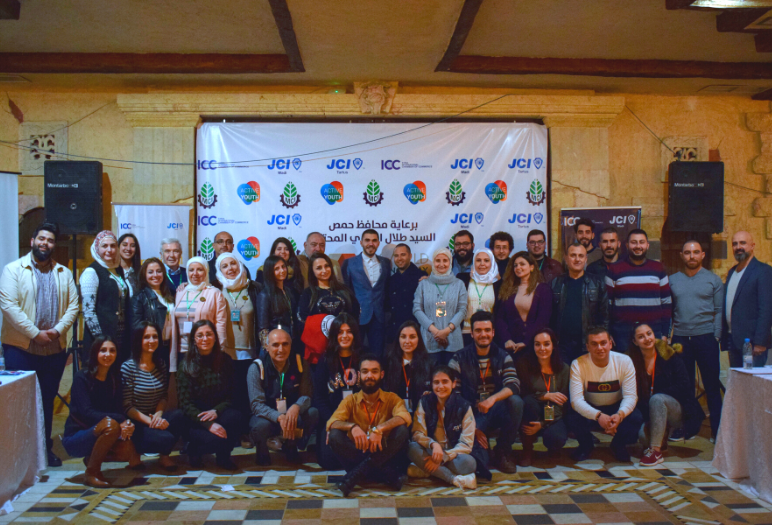 JCI Syria, JCI Tartus and JCI Wadi are celebrating World NGO Day
JCI Syria, JCI Tartus and JCI Wadi are celebrating World NGO Day (Celebrate, Commemorate, Collaborate)
As a Non-Profit Organization, that works on empowering young people to create positive change, JCI Syria with local chapters JCI Tartus and JCI Wadi commemorated World NGO Day on 27th of February 2020. It is time for Syria to reach universality through the efforts of active youth, despite all the conflicts that we have been through, we made this positive change.
I will start from the SDGs, especially the goal 17 "Partnerships for Goals" which gave us the idea of preparing this platform and exchange experience among each other about sequential topics (Active Youth Campaign, SDGs 2030, Syria Towards Universality In The Future, Voluntary Work Towards Sustained Society,  Partnerships Towards Achieving The SDGs, and Youth As Future Leaders towards Developing Society)
Mary Alhasan- 2020 JCI Tartus Local President
Participants introduced themselves with their goals, missions, and services in addition to discussing the SDGs and Believe in Syria campaign which met the admiration of all participating organizations to Adopt it in the future.
Exchanging of experience started through several trainings that was held between the NGOs, as every NGO gave a training about the most skill they are professional with.
Regarding to the 4th element of the World NGO Day theme "Donate" and commemorating the Autistic Pride Day through an activity under the umbrella of Believe in Syria Campaign, a donation was collected and given to a Charitable Society for Autistic Children.
As youth working in NGOs, we were lucky to have this chance to meet and exchange our experiences together and World NGO Day helped us to become closer to each other to work as one team in serving the community. On the other hand, the two local chapters JCI Tartus and JCI Wadi deserved an award of "Best Active Youth Empowerment Project" in JCI Syria  12th National Convention 2020.
Source: JCI Tartus